Move Forward Virtual Assistants (MFVA)
VIRTUAL ASSISTANTS AGENCY
Brand Messaging and Identity / Website Design & Development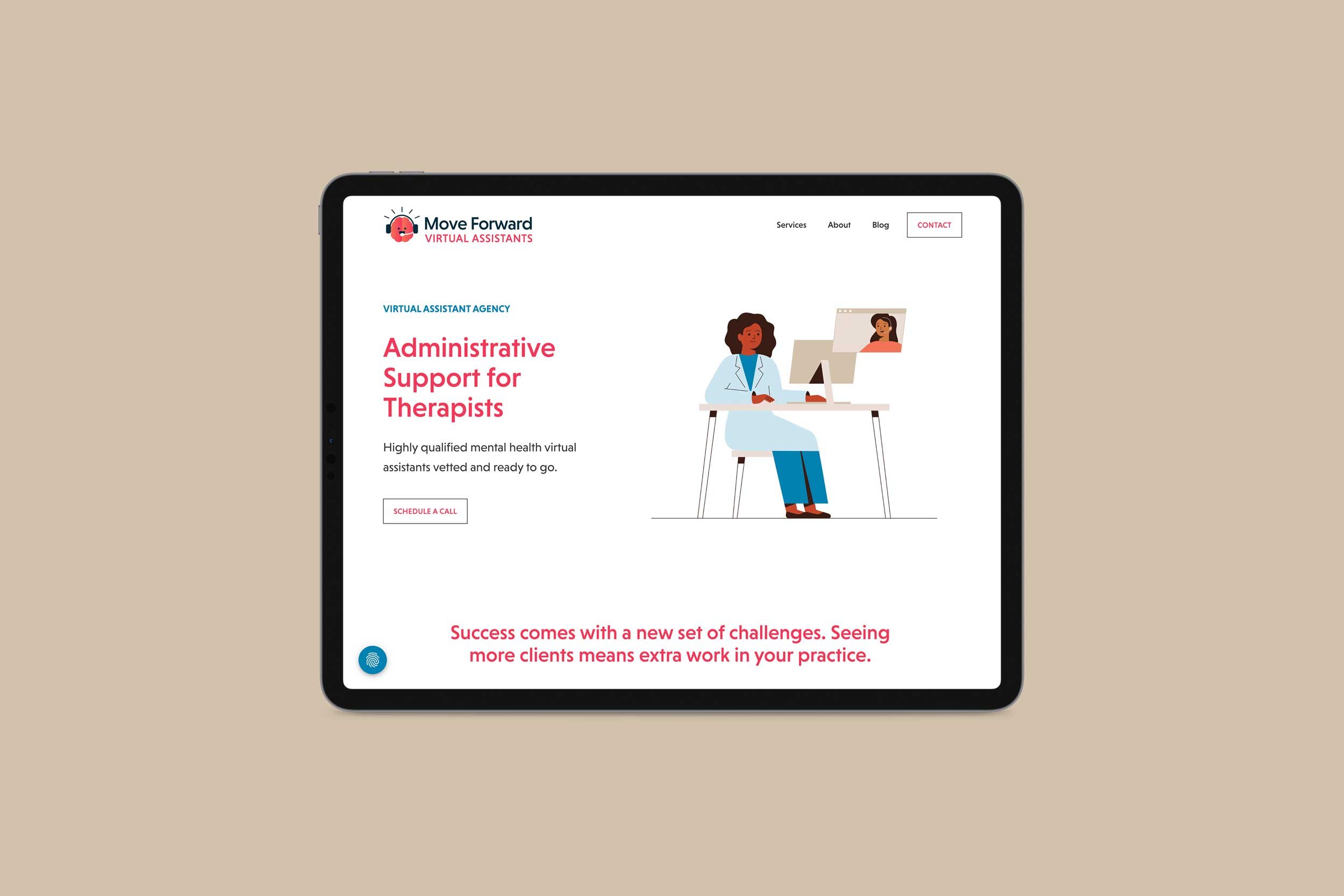 MFVA
OVERVIEW
Move Forward Virtual Assistants provides specialized administrative support services for therapists and mental health providers. Jennifer Crawford and Meredith Eaton, founders of Sparent, purchased MFVA in 2022 to continue making a positive impact in the virtual assistant industry.
After acquiring MFVA, Jennifer and Meredith wanted to create a brand identity (logo, colors, typography) that more reflected their personality and corporate culture. We started with a Power Plan strategy session and then moved to create the new logo.
Because we had worked with Jennifer and Meredith before, we knew that they were open to concepts that would reflect their approachable and relaxed style.
The illustrative brain logo is colorful, with a cheerful smile, a headset, and animated lines that imbue a sense of excitement. We created 6 size variations to fit varied social media formats with the distinctive icon element and sans serif typography.
The logo quickly became the MFVA mascot, alter ego, and chief inspiration officer with a full name (Brayn "Bambam" Cranium, III), personality traits, and backstory. Bambam is the voice and the face of MFVA!
Next up was the website redesign and build, which included custom content writing, creative layouts and page design, re-colored stock illustrations, content clean-up from the blog export/import, URL remapping, SEO strategy, employee headshot guide, photo retouching, media optimization, third-party code implementation, custom styling, website legal policies, alt text, and more!
It was important to us to convey a sense of well-being, whimsy, and confidence in the layout, as mental health-related content is often heavy-handed. The website has a minimal design, is easy to navigate and comprehend the services, speaks clearly to its target audience, and motivates users to click the call to action to schedule a call, connect, and hire a VA!
Before & After
Move handle left (after) to right (before).